Purchase and sale of Gold Nice
You own coins or gold bullion? BNC CHANGE NICE, specialist in buying and selling gold, buy your gold at the best conditions.
No tax is due to purchase!
Gold has always played an important role in our monetary system. Property Protection, Anti-crisis insurance, gold is in many countries a safe value.
Located on avenue Jean Médecin in the center of Nice, the exchange office BNC CHANGE welcomes you in a secure area for the purchase and sale of your gold.
With one of the best reserves in the area, the BNC Group team is at your service to advise you and offer you the best financial and security conditions.
Maximize your tax savings on your GOLD sales in Nice!
If you do not have proof of purchase of your gold, the flat tax rate is 10.5% of the sale price.
If you have held the gold for over 22 years (with certified documentation), no tax is applied. Our experts fill in the form 2092 SD for you, we take care of all the steps for your tranquility.
If you have proof of purchase and have owned the gold for less than 22 years, the capital gains tax system on securities (34.5%), allows you to only pay tax on the capital gain. If you make a loss, you pay no tax. The gross capital gain is reduced by a 5% margin for every year held beyond the second year. We will help you calculate the rate.
Purchase GOLD! No tax due on the purchase!
Coins: Napoleon, Souverain…
Platelets: 5g, 10g, 20g
Ounce of Gold signed by Jean Paul Gautier
Pellets: 20g, 100g, 500g
Ingots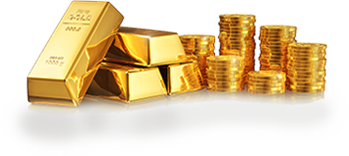 The sealed pouch: an exclusive service in buying gold offered by BNC Change
To prove your date of purchase, and to benefit from capital gains tax rates, BNC Change can sell you gold in sealed bags containing a nominative invoice. Your coins will be easily accepted for resale and you'll have a tax saving upon resale.
Gold a good gift idea?
Offer gold, an original gift and a gift able to produce added value. We regularly sell to parents, grandparents, gold for gifts to their children or grandchildren. A surprising gift that will undoubtedly amaze the beneficiary.
Gold is a sure value that goes through time. It can allow you to help your children or grandchildren build up capital to secure the future. They can retain them and then exchange them if necessary to finance a project. This gift will also be a way to awaken them to the story.
BNC CHANGE offers box to protect and sublimate the gold coin, or the ingot.
Do not hesitate to ask our specialists for advice at 17 avenue Jean Médecin in Nice, or contact us for more information.